Fresh Crab for your Crab Feed
Justin's Crab Co. has been bringing fresh, delicious bulk, wholesale crab to Northern California crab feeds since 1999. Hosting a crab feed is popular as both a fundraising and recreational event, and is something that everyone gets excited about.
Dungeness Crab turns any gathering into a memorable social event. Whether you're planning a fundraiser, a membership drive or a gala-get-together, a Dungeness Crab Feed promises to be a profitable venture, as well as a great time.
Many of Justin's Crab Co. customers wonder about the logistics of ordering bulk crab for their events. If this is your first time as a crab feed host or guest, we've got all the info you need right here.
Hosting Crab Feed 101
When is the best time to host a crab feed?
Dungeness Crab season opens in the first week of November for the San Francisco Bay Area, and generally in December for the entire West Coast. While crab season can last through May, we typically see crab feeds taking place January to April.
How much crab will I need?
If you are hosting an all-you-can-eat crab feed, you should plan on providing 3-6 pounds of dungeness crab per person. Your Dungeness Crab is custom cooked. Following a thorough chilling, the crab is packed in plastic bags, (California style by request only) and placed in specially designed seafood shipping cartons. Give your chef the night off because your shipment arrives ready-to-eat! No cooking or warming is necessary, Dungeness Crab is best at room temperature. Your order can be delivered to your Food Service Department or directly to the event site, the day of your event
How Should the Crab be Cracked?
Most popular and always the way we recommend for best quality is regular cracked and cleaned: This is legs on, bodies cleaned and legs are cracked. This style keeps integrity and provides nice juicy crab (over cracking is not good)
Cal Style is legs off and cracked and bodies in separate bag. It is extra labor and that labor is charged to the customers. It's a fine way to do things but not preferable as juice tends to leach out into boxes; and juice is flavor!
When should I order my bulk crab from Justin's Crab Co.?
Timeline from Justin's
What should you include on your crab feed menu?
Crab, of course! Other crab feed menu items include bread and/or dinner rolls, salad, pasta, and dessert. Serving alcohol is also popular at crab feeds, but it is up to the host to decide if that is best for their event.
Is there anything else I need for my crab feed?
Justin's Crab Co. happily offers bibs for your crab feeds. Guests should know that feasting on crab is messy, but fun. Wearing a bib is a crab feed tradition and essential for keeping shirts and laps clean during the meal.
Other basics, like plates & utensils, table linens, napkins, buckets, and bowls, should be supplied by the host.
What do guests need to bring to a crab feed?
If you are attending a crab feed as a guest, you typically bring your own:
Butter
Butter warmers (usually these are little stands with tealights and ramekins)
Seafood tools, like crab crackers and forks
Cocktail sauce
Lemons
---
More Frequently Asked Crab Questions
Can I change my order?
Please contact us at least 7 days before your event to add to an order.
Will you deliver or can I pick my bulk crab up?
Justin's Crab Co. is happy to offer crab delivery to your event location. Your order can be delivered to your Food Service Department or directly to the event site, the day of your event. Our major area of distribution is Northern California, however, special arrangements can be made for our customers.
Do I need refrigerated storage?
Justin's Dungeness Crab comes cooked and chilled. If you are receiving your crab days or hours before an event, we recommend storing it in a refrigerator until ready to serve. No cooking or warming is necessary, as Dungeness Crab is best served at room temperature.
What about left-over crab?
If you find yourself in the situation of having left-over crab after your event, it is perfectly fine to bag the crab and sell it to your guests or send it home with your volunteers.
---
Justin's Crab Co. has been a trusted Bay Area crab feed distributor for 20 years. Please don't hesitate to reach out to our experienced and knowledgeable team with your crab feed questions.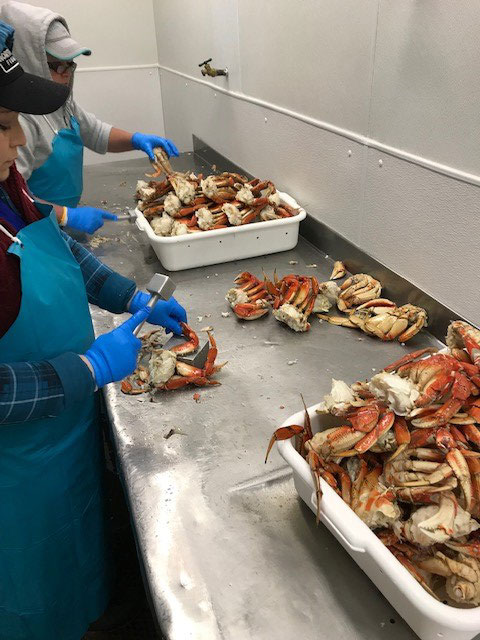 SHELLFISH • FILLETS • SCALLOPS • CRABMEAT • CLAMS
OYSTERS • OYSTERS ON 1/2 SHELL • SMOKED SALMON • MUSSELS • OYSTERS IN JAR